Finding Peace
by
K.J. Love
My rating:
5 of 5 stars
Let me start off by saying for this being her first book... WOW! This is yet another book that will stick with me (I've read a few of those this year).
Mrs. Love's story is unique. I've not read anything like it before. The plot and flow is smooth and strong. Honestly, it's such an engaging read that will tear you apart.
Kayla's life is far from ideal. She fights to keep the thin threads of her life together. Suffocating in a relationship she's guilted into staying in. That is until she find her strength, her reason to fight to break from it all and finally begin to live for herself. That strength came in the form of bad boy Blake.
Blake almost seemed arrogant and too cocky, but you soon see that beneath the picture he creates for others a true southern gentleman with a heart bigger than even he realizes. The minute he meets Kayla his life is changed forever. I loved Blake. There were A LOT of swoon worthy moments from him.
The chemistry between Blake and Kayla will leave you breathless. But more than that, you'll be falling in love with more than just Blake and Kayla. You'll fall for Tessa, Asher, Maxwell, Paige, Andrew (eventually), Leo, Elle, Troy, Lisa and even some of the even smaller roles.
The journey that Love takes us on in this story is unreal. She pulls at every single one of your emotions. I was crying, laughing, swooning, getting angry as hell and every emotion in between. It was definitely a roller coaster, but it was the best kind.
K. J. Love hit this one out of the park and I can't wait to read more from her. This book get a VERY high recommendation from me to those who want a truly breathtaking love story that will warm even the coldest of hearts.
View all my reviews
Nathan's Choice
by
C.K. Long
My rating:
5 of 5 stars
This book takes you on one Heck of a ride. Nathan is a hands off business focused man. Getting ready to attend an event for a charity, he's thrown a curveball that changes his life in a way he never imagined. Samantha knocks on the door for here date this evening and is almost knocked off her feet. Samantha has kept everyone at a distance for so long she never expected to be hit like she was when she first meets Nathan.
They share an intense dance and both reveal a bit more about themselves than they ever have before. Nathan immediately feels protective over her when Dr. Wise comes by with some less than friendly words. Determined to figure out what's going on, Nathan calls in help from an old friend. That's when things really start to get interesting.
This up and down journey that the author takes you on will pull on every emotional string you have. This is a must read for sure. I am dying for book 2. I need to know what Samantha is going to do and if Nathan will recover from the decision that I think she's going to make
View all my reviews
Bright Side
by
Kim Holden
My rating:
5 of 5 stars
So I had to take a day and reread some of my favorite parts before I wrote my review. I have loved Kim Holden's work since I read her first book
All Of It
and had high expectations for this book. She didn't let me down, not at all.
This is a beyond emotional read and like
All Of It
when I read the last work of the book, I wiped my tears and closed me, thinking about what I just read and the world around me.
Through this book, I shed SO many tears, laughed so many times, got angry, nervous... This book had a little bit of everything for me. Some of this, I can relate to and others I could empathize with easily because of my understanding of some of the other emotions the characters were going through.
This book broke my heart, mended it, broke my heart, mended it and broke me. It's not your happy go lucky love story where they run off into the sunset in the end, but OMG!!! It is a must read love story that you can't miss. Yes even through all the tears and pain you will shed and feel in this book, there is a beautiful love story... well a few actually.
In the beginning, I wanted Gus and Kate to end up together, but then I meet Keller and suddenly I'm torn. I love both men and it's so hard to decide who completes Kate aka Bright Side (Gus's nickname for her) aka Katie (Keller's name for her), aka Kathrine (Clayton's name for her)...
In the end, the love that surround Kate is inevitably what broke my heart in the end. Someone this impactful (is that a word, well, it is in this case LOL), this unforgettable, shouldn't suffer the way she has or will, yet it's as the saying goes it seems "Bad things always seem to happen to good people". In Kate's case, this saying is so true.
I don't want to say too much because I feel like I'd be giving away so much of the story, but tragedy seems to be all that Kate is dealt. The incredible thing is (and it really speaks to her character) is she doesn't let it stop her from loving every moment, every minute of her life.
We aren't always handed the flush in life. Sometimes we just have to make do with two pair. This book both rejoices life and shows us the pit falls that can (and most often do) come along. Nothing is perfect not humans and not life. Life is what we make of it and what we choose for ourselves. I think I'm going to take a live by Kate's rules to her friends. If it's the only thing that sticks with me (which is won't be they're all stuck with me like Dimitri and Veronica have) this book has done what I feel Mrs. Holden intended. Opened my eyes to the many things I let trip me up daily that I should just take as it is and move forward.
This book is a must read. I hope that whoever takes time to read this review strongly considers reading anything by Kim Holden. You won't be disappointed. She is one author I will read without even reading a blurb. I can't wait for more from her :)
If you haven't already PLEASE check out her other book All of It because Mrs. Holden tells a story that will stay with you for a very long time.
All of It
P.S. Kim Holden, if you read this, I have some questions for you if you can answer them for me hahahaha <3
View all my reviews
Blindfold Fantasy
by
D.L. Roan
My rating:
5 of 5 stars
Okay let me tell you this book blows her other books OUT OF THE WATER. Just wanted to say that. I can't believe the journey that DL Roan took me on in this one.
One of the things I love about Mrs. Roan's work is that she has a tendency to make the evil seem good and the good seem evil. The characters are much the same way and I LOVE IT!!! On my toes, biting my nails until the end.
So there were a few things that I
thought
I knew was going to happen or was happening and as per usual I was
wrong
. As I sat and stared at me kindle that flashed that it was over, I still couldn't decide who I loved more; Blake or Devin. There were moments when I just wanted one or the other more than the other. I need more of them, but sadly their story is completed in this book.
GAH! I can't put into words what I felt while reading this book and what I felt after I finished. This story is just.... GAH!
This book is MORE than just a woman with two guys. It's about discovering yourself after being torn apart by a past or personal experience. It's about opening your heart and fight for what you want most in the world. This book goes beyond the steaminess.
The emotion that is conveyed in each page is intense, heartbreaking, gut wrenching and so much more.
This is one book that you don't want to pass up.
I look at all the books turning into movies these days and honestly I'd LOVE to see this one turn into one. The chemistry and connection between the characters; Devin, Jayne, Blake and even Roxy (Jayne's best friend).
Be prepared to have your heart melted, broke and mended. This is a MUST MUST MUST read!!!
View all my reviews
Just Stay
by
Michelle Abbott
My rating:
5 of 5 stars
I have been a fan of Mrs. Abbott's since I met Kayden (In Chains series). She definitely still keep my attention now. I loved this book. Trey's POV had me bawling my eyes out at times. Pia just seemed so lost sometimes. But when they were together it was as if their worlds were righted and I loved that.
I have to say, I never expected my heart to break so much until Trey's POV came into play. The struggle behind his tough exterior slayed me. But these are the types of characters that Mrs. Abbott writes. The hidden struggles, the intense EMOTIONAL climax, the fall out, and the reunion...
I can't get enough of the men that she creates within her books. Trey seemed pompous at first, but you almost feel the shift with him when he realizes that Pia isn't just another girl.
This book had me torn up with sadness, but also busting a gut with laughing. I can't even go into how many times I laughed while reading this book. My favorite had to be where they just finished making love and the bed collapses and he looks up at Pia and says "So, precious, did the earth move for you too?" (not exactly word for word there, but the jist of it)
I loved this book and will be highly recommending it to everyone! I can't wait for more from Pia and Trey. I hear there may be another book. I'm excited for it if they are because to me it was like the beginning to their story. Now, Michelle Abbott, you need to hurry with another book because I need more. MUST READ!!
View all my reviews
Shattered Promises
by
J.R. Grant
My rating:
5 of 5 stars
Okay let me say this first... For Grant's first book, she knocked this one clear out of the park and maybe the parking lot! Okay that said let's move into the story.
You start out with a Prologue that has you taking a shuttered breath with the intensity of the emotions that Grant was able to elicit from the reader (me). Lani is broken. But it's more than that really. Have you ever wondered how much you miss that sits right at the end of your nose? Sometimes we focus so much on the what's in front of us or behind us that we miss what sits there at the tip of our nose.
Now, being a person who can relate to this story in a way, there were parts that had me in tears. What made it possible was Grant's incredible ability to describe the characters emotions without drowning me in details. I love knowing what my characters are seeing and feeling, but I don't need to know down to the speck of dust that fell to the ground. Grant gave me just enough to set me up and allowed me to fill in the rest. Because she was able to pull this off, it allowed me to fully dive into the story.
Okay all that aside, Lani marries the man that at first meeting she HATES. He was a best friend of her best friend, Parker. Oh, Parker. Talk about a loyal, caring, loving, seriously good looking man. If I had a best friend like that I'd certainly keep an EXTRA eye (and maybe more LMAO!!!) on him.
Tragedy hits Lani when she's already weak. Things haven't been picture perfect in her life for a while, not that she's told anyone that. Not even her best friend. After that... nothing is the same and Lani starts losing herself.
Parker who has loved her for so long, but never spoke on it, has to make a choice. Does he tell Lani everything he's finding out about Kade, her husband and his best friend? If he tells her, he'll be the one breaking her and he'd never dream of hurting her. Eventually the decision is made for Parker.
GAH! For Lani she feels like she's been tossed out to sea with no life jacket. She's drowning and at times isn't even sure she wants to keep going. The strength that eminates from Parker has my heart skipping a beat. Parker truly would have walked into the flames of hell if it'd save Lani any pain. I loved loved loved Parker. hahahaha
JR Grant did such an amazing job on this book. It will leave you breathless, tear stricken, hopeful and so much more. I can't recommend this book enough. JR Grant has quickly jumped into my "Must Watch Authors" list and I can't wait to read more from her. If you haven't read this book, I can't stress what a heart touching story you are missing. If you've ever been loved and lied to, you can seriously relate to this book. If you haven't.... Hello there's Parker... need I say more? LMAO!!!!!!!
View all my reviews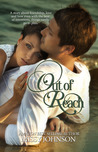 Out of Reach
by
Missy Johnson
My rating:
5 of 5 stars
OMG! So I've been so excited for this book since she first teased us with the idea. I kept telling myself "Yes, it's an emotional read, but so was Always You and you made it through that." Yeah let me tell you. This book gutted me. In a fantastically emotional way that I can't put into words.
Missy Johnson really knows how to pull the reader into the story right away leaving you unable to put the damn thing down until the words "The End" have been read or at the very least implied. This was one was just... GAH!
I want you all to be warned this is not your box of tissues and chocolate kind of read. No this is your whole supply of tissues, chocolate and strong alcohol kind of read... and I don't even drink!
In all seriousness, Mrs. Johnson covers the hardship of losing someone you love so dearly, someone who plays such an integral part in your life, in your memories, in your existence. Like I said earlier super emotional read.
Seth and Emily are not only trying to treat their best friend (or in Emily's case boyfriend) as normal as possible (his request), they are also trying to accept or ready themselves for that moment when they have to let him go. But how can you ever be prepared to let someone go that you can't see moving forward without?
There wasn't a single chapter that I didn't cry in, scream in, laugh in, or become a blubbering mess in. This is a read that will have you pressing the proverbial pause button on your life and looking at your life in a whole new way. After all when we are gone, the only thing left of us is the memories we have made with those that matter most to you.
If there is a read you pick up and read right away. It's this one. I was ripped to shred while slowly put surely I was put back together again. Highly HIGHLY recommended read!! Her best book to date!
View all my reviews
Read and Reviewed: 4-7-14
Normally I do not post ratings with my reviews, but this book definitely deserve a full five stars and then some. This book will make you look at life a bit differently, through your heart instead of your brain.
When I first saw this book, I thought it might be the book to break my slump. Then life interferes, but I found the time and boy am I glad I did. This book did cure my slump, but created another problem all its own. I'm trying my hardest to push this book from my mind, in short I have a MAJOR book hangover! LOL
This book is hard to review and honestly it's not because there were not good things because there was some AMAZING things, but because of the uniqueness of this story I fear of spoiling one of the mysteries it holds.
Veronica and Dimitri are one of the most amazing strong and well written couples I've read. Though the book takes place in high school neither are their age emotionally. Their emotions, functions, thoughts are all beyond their years. I also have to say that the supporting characters were just as strong as they were which really pulled me into the book more.
The tears, the laughter, the pain, this book holds every emotion all wrapped around a love bigger than Veronica could ever imagine. There are typical issues that all high school students are presented with, but there are other underlining issues that make this story so unique and intriguing. The heartache that she has to go through before she realizes that sometimes your brain misses out on the obvious things your heart already understands.
The growth of each of the characters (not just the main ones) shows the understanding the author has of her characters. They all developed and grew at different stages which sets the story up as more life like because not all of us mature at the same rate.
This book is definitely one that will stick with me for a while. It has changed the way I see the obvious and look deeper to see what could be lying beneath the surface of each decision I make. I can't wait to read more from this author!
HIGHLY RECOMMENDED!!
Just be prepared to lose your heart..
Paranormal Romance is not my normal genre I read. There are only a select few authors that I will read in this genre. This author is DEFINITELY one of them! This book is one that will stay on my Kindle for a while.
Before I get into Rollan (whom I absolutely freaking LOVE) let me talk about the story itself. The story in this book is engaging and it will pull you in right away. Lara was a strong amazing woman hell bent on seeking her revenge. The problem with this was every revenge plan has an end, well Lara's does. The end of hers, her re-death. Forces outside her new 'family' have chosen when she needed to leave, even if the others didn't understand.
All the characters in this book are so strong and well built that you automatically want more of all of them (Hear that Ms. Price....I want more of ALL of them LMAO!! Not asking for much really am I? :P ) My favorite? (outside of Rollan obviously) Hmmm that's a hard one. That would be like asking me to choose between my right or left arm. Marcus and Mathias stood out the most to me I think BUT I want to know more on all of them! One wasn't a death stalker but in the mist and I'd love to see her come back as a death stalker. Maybe she will who knows, but I think it'd be pretty awesome.
Now let me get to Rollan (because I'm dying to)! Here is a man that loves with all his heart and all his soul. The love he has for Lara is breathtaking and will have you longing for a love that strong. He's protective, but restrains himself from being overly so. He's caring, and HOT!!!
This book has a bit of everything; suspense, tension, fighting (physical and mental), tears, and a ton of swooning. It is one book that will leave you chewing your nails while you eagerly turn the pages to find out what's happening next. MUST READ!
This book is HIGHLY recommended!!! Get it now because from what I hear book 2 is in the works :)